When my friend told me that there was another bazaar (see my previous post about the Superb Sale Bazaar), I felt so giddy that I knew I had to save a lot of money. I planned to buy lots of shoes during this bazaar, but I wasn't even able to buy a pair because the styles which I liked didn't have my size. It's so annoying when this happens.
I am so broke right now. I spent about 80% of all my money here. Talk about impulse buying. I feel so guilty, but at the same time happy because I was able to purchase quite a lot. The experience was tiring but I enjoyed it. My friend and I searched the racks patiently just to look for the perfect items. The shops participating here are mostly online stores. I grabbed the chance in buying lots of stuff because I wanted to avoid the hassle of online shopping.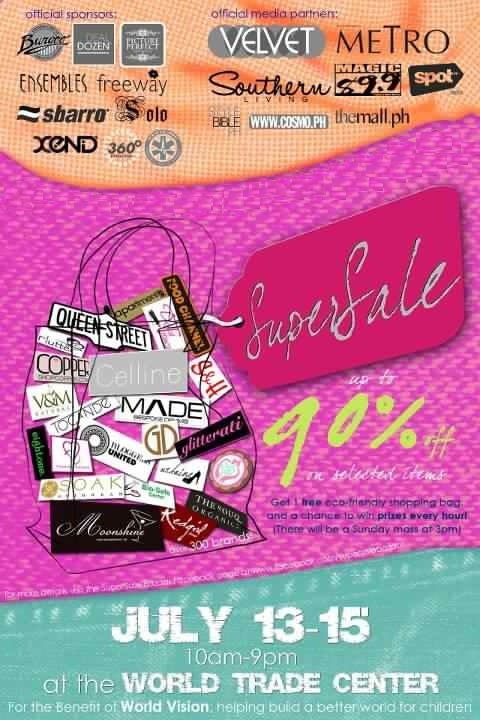 (source: manilaonsale.com)
The bazaar ends today!
Photos of items I bought:
TOPS:
I only noticed until I got home that all the tops I have bought are floral. I didn't plan to buy them all, but I just had to. I wanted the galaxy printed shirts and the structured blazers. They were too loose on me. Ugh.
Kimono/vest. I am not sure though.
Price: PHP 300
Mullet top. Crazy floral prints. Me likey.
Price: PHP 400
Floral top with lace details.
Price: PHP 450? (I can't remember exactly)
You can wear this top in 2 ways! Cool!
Price: PHP 550
COSMETICS:
I just couldn't resist. They're NYX products. I don't come across this brand in malls and they're priced cheaper so I gave in.
Concealer in a Jar (beige, I purchased the medium shade before but it was too dark, PHP 300)
Rouge cream blush in Natural, PHP 350
Lipliner pencil in Natural, PHP 130
ACCESSORIES:
2-chain cross necklace. Been searching for so long.
Price: PHP 300
Polymer clay earrings. I don't know why I am into fancy earrings nowadays. I also saw these cool pop culture earrings but I wasn't able to buy some :(
Panda - PHP 80 (I am addicted to these creatures!)
Cupcakes - PHP 50
Cookie Monster - PHP 50
Studded bracelet. Not really my style but they look cool.
PHP 250
BAG:
Satchel from Queen Street
PHP 500
No more desserts for weeks again. Boohoo. Need to save up. More bazaars to go to (hopefully!) I hope they make another shoe sale bazaar, though. :\\