If you're a beginner like me, you don't need to splurge on expensive 28pc brush sets. All you need are these basics. You may begin to expand your brush collection when you have mastered the basic makeup application techniques. In my opinion, these are the must haves:
FACE:
Powder brush
There are different types and sizes of this kind. Some popular ones include the flat top and angled brushes. Powder brush is usually used to spread powder products on to the face (Although I have written in a previous post that powder brushes are used to knock off excess powder. A lot of people use this brush this way and you may find it convenient; it depends on your preference). Powder brushes should be dense so it is easier to pick up loose powder or even blush (if you don't want to spend on a separate brush).
Kabuki brush
(source: E.L.F. UK website)
Kabuki brushes originated from Japan. They function similarly to powder brushes. These brushes are also dense and are mostly used in applying mineral makeup. They also vary in sizes (i.e. for application of foundation, blush, etc) A Kabuki brush is used in a circular motion.
Stippling brush
(image from amazon)
I personally want to own this kind of brush seeing that it is versatile. A stippling brush may be used for applications of liquid and powder foundation, and blush. This is used in a "stippling motion" (also a circular motion. lol)
EYES:
Eye Shader brush
(MAC 239 brush; source: makeupgeek.com)
A basic eye shader brush is flat. Eye shaders may come in small, medium, and large sizes for precise application. The flat shape of an eye shader brush provides the ability to pack lots of color into the bristles.
Crease brush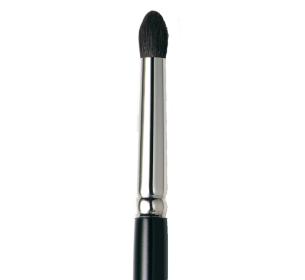 (source: lauramercier.com)
Crease brush are of course used to put color into the crease. Basic eye shader may be tedious to use in this area so it is recommended that you own a crease brush especially when working on smokey eyes. Crease brushes are dome shaped and they may also be used for the lower lids.
Blending brush
(MAC 217; source: maccosmetics.com)
For more advance eye makeup, blending brushes are used to soften up hard edges and create a 'gradient' effect. Blending brushes may also be used for shading. A blending brush is usually fluffy to ensure flawless blending of eyeshadows.
Angled eyeliner brush
Angled eyeliner brushes are commonly used to apply gel eyeliners. They may also be used for eyeshadows used as liners (wet/dry eyeshadows) and for filling up sparse areas in the eyebrows.
For the lips, a lip brush is not really necessary if you're doing makeup for personal reasons. However, if you'll be using a lip product on another person, it is recommend to use a lip brush for hygienic purposes. As for concealers which comes in pot form, some people would prefer using their fingers as this warms up the product. On another note, it is unhygienic to use pot concealers if more than one person will be using it (Imagine all the fingers which have gone through that pot!)
There are lots of other makeup brushes there but I believe one can do simple, everyday makeup with only these. I hope this helped! :)